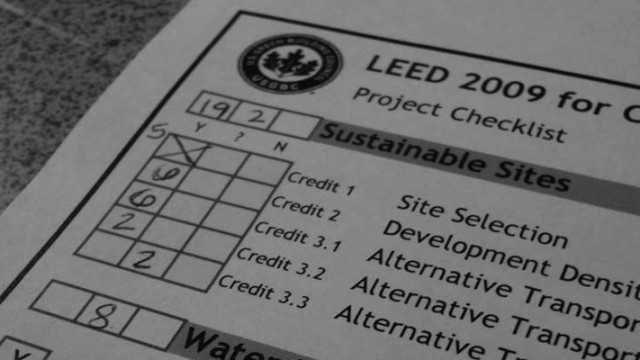 CAN YOUR BUILDING BE LEED CERTIFIED?
As an interactive way to educate people about green building principles and the Leadership in Energy and Environmental Design (LEED) green building system, Amanda designed workshops titled "Can Your Office Be LEED Certified?".  The workshops brought participants together to discuss a space they spend many hours in, and are equally familiar with: their office.
Amanda walked participants through the LEED checklist, credit-by-credit, of all categories –  Sustainable Sites, Water Efficiency, Energy + Atmosphere, Materials + Resources, Indoor Environmental Quality, and Innovation in Design.  She explained the intent of the credit and the requirements needed to earn the LEED point.  The participants then discussed together whether or not they believed their office could earn the point.  Through these workshops not only did participants become more familiar with basic principles of green building and LEED, but it also allowed the participants to think deeper about their office environment, how it could be improved, and what strengths or expertise they could offer to make the improvement.   A well designed, comfortable, stimulating environment, increases work productivity and overall quality of life for employees.
Sustainability Services:  LEED and Green Building Rating Systems