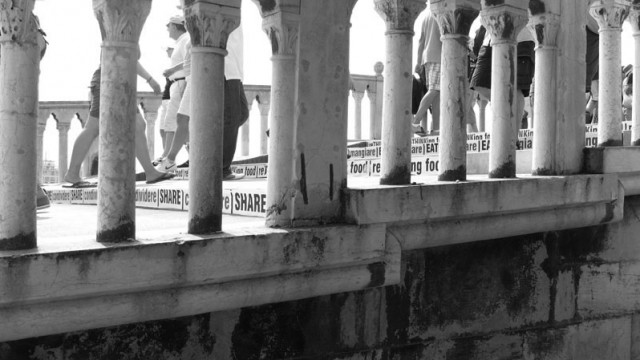 MOBILE FOOD COLLECTIVE: VENICE BIENNALE WORKSHOP
The Mobile Food Collective is a project developed within Archeworks, an alternative design school where students work in multidisciplinary teams with nonprofit partners to create design solutions for social and environmental concerns. The MFC is many things: an education/exchange platform for planting, growing and cooking; demonstrations and distribution of seeds, soil, compost, and produce; a space activator within a community event; or the centerpiece of a harvest dinner.  Along with six other design practices, Archeworks's Mobile Food Collective were chosen to represent the United States at the 12thVenice Biennale for Architecture titled – Workshopping: An American Model of Architectural Practice and celebrate the entrepreneurial spirit of American architects and designers as initiators of transdisciplinary partnerships that serve public good though focused research and social engagement.
Amanda designed, coordinated, and lead a workshop to expand the MFC's Biennale presence and communicate the project's message while in Venice.  Archeworks students were teamed up with architecture students from the Italian town of Ascoli Piceno for a three-day workshop exploring the intersection of culinary heritage and social design.  The students were asked to bring seeds from their home town and family recipes.  The American students and Italian students introduced themselves to each other through their "food histories". The workshop culminated in flash-mob spontaneous interventions that provoked curiosities and conversations,  initially during a busy afternoon on the "Ponte della Paglia", a major bridge near San Marco piazza in Venice, and later in the crowded and social Venetian piazzas at night.  Students engaged in conversation with passersby about food heritage and distributed their seeds.
This cultural exchange was invaluable; working with local students sparked many thoughtful discussions with an international crowd on the streets of Venice, with wonderfully rich and varied narratives and food histories.  The success of the workshop- design discussions, shared food histories and further cultural exchange – underscored the project's success and affirmed it's relevance with an international audience.  The MFC learned that what initially resonated with the design team resonates globally- there is something universal about the social aspects of food – growing, cooking, sharing, and eating.
Mobile Food Collective in Venice
Mobile Food Collective Kickstarter Campaign