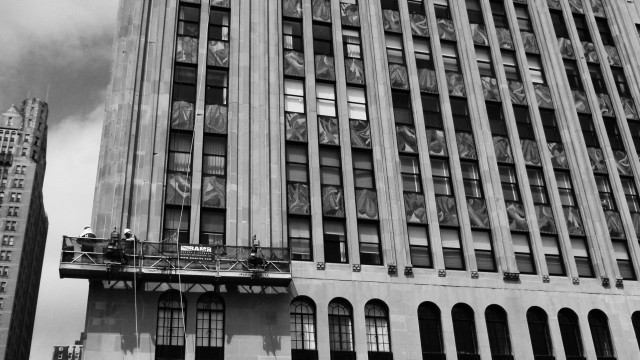 HISTORIC HIGH-RISE BUILDING FACADE REPAIR
The Powhatan is a 22-story building in Hyde Park, Chicago, constructed around 1928. This art-deco building is a Chicago landmark clad with brick, limestone and colorful and striking ornamental terra cotta panels. There are 510 different terra cotta panels featuring art-deco depictions of Native American imagery such as arrowheads, wigwams, the sun and the moon.
From 2007-2012 Amanda provided architectural services for the building including  façade assessments, façade repairs, preparation of construction documents, assisted with bidding, provided contract administration services, performed water leakage investigations, and prepared façade ordinance compliant and life safety compliant reports required by the city of Chicago.
A typical facade assessment, like the ones performed on this building, consists of an extensive hands-on examination from a suspended scaffold or "swing-stage" to identify conditions of distress such as cracks, spalls, and loose material in the limestone, brick, and terra cotta construction.   When unsafe conditions were found, Amanda worked with a contractor to temporarily stabalize the condition,  then designed long-term repairs to be implemented as part of a more extensive facade repair project.