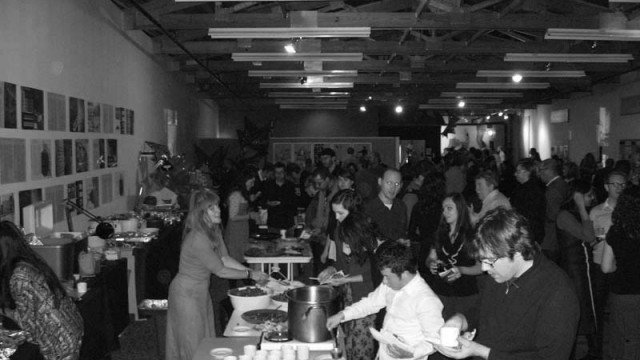 SATISFY/FULFILL – A ZERO WASTE FUNDRAISER
In 2009 for the annual Archeworks fundraiser, the school directors reached out to alumni to help design the fundraiser, using inspiration from past Archeworks projects. The goal was for donors to have a better understanding of Archeworks through an interactive event with direct interaction to former and current students, and community partners.
Amanda and former Sustainable Food Systems alumni were tasked with food and waste.  The group designed a zero-waste event called Satisfy/Fulfill that explored the differences in being satisfied and fulfilled, especially with respect to food.  Instead of seeing anything as "waste" they saw waste as being food for another system.  Corn husks and flat slate stones were used as plates.  Oyster shells and wooden chopsticks were used as cutlery.  Glasses were mason jars that guests could take home with them.  There were three containers for "waste" called "Food For Soil" which meant compost waste, "Food For Bunny" which meant food that could be given to an Archeworks facilitator's bunny, and "Food For Worms" which were food scraps designated for the Archeworks worm composting system already in place.
An unsued and unnoticed area across the street from the Archeworks building was designated as the new compost site where "Food For Soil" would be buried.  Toward the end of the evening, when all waste was collected, marching band musicians lead the guests procession style from the Archeworks building to the chosen compost site across the street.  A hole was dug, and with the marching band playing in the background, the "Food For Soil" container was ceremoniously emptied into the hole, creating a guerilla-style new compost area.