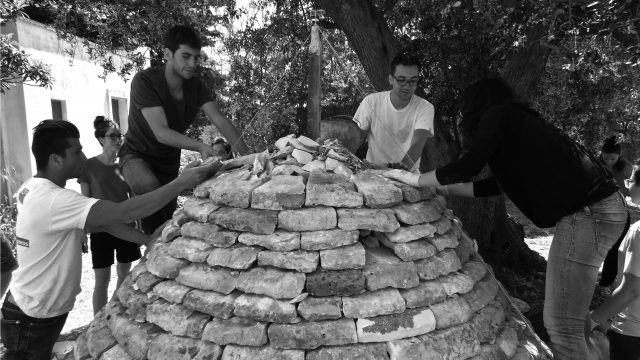 2015 CONSTRUCTION TECHNIQUES OF A TRULLO WORKSHOP with B.A.G.
This workshop was held over three days in the spring of 2015 in the countryside of Ceglie Messapica, Puglia. Under the guidance of 5th generation trullaro (master trullo builder) Angelo Pentassuglia, participants constructed a complete trullo roof, including the interior structural cone and the outer layer of stone shingles called chianche. Additionally, participants learned about the history of trulli architecture and visited several different types of trulli in the area.
The workshop was organized in collaboration with Paolo Robazza, architect and founder of Beyond Architecture Group, a sustainable architecture and education organization and Vittoria Moramarco, architect and author of a book about trulli called I Trulli Di Alberobello.