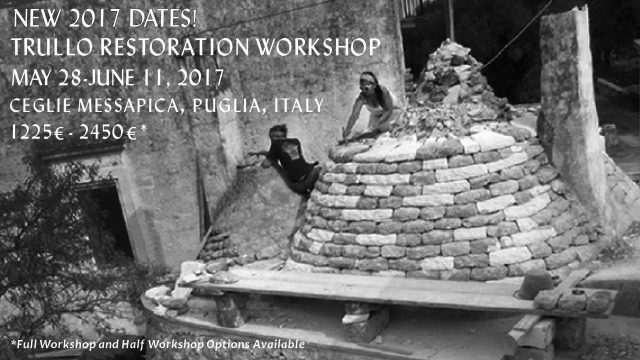 UPCOMING! 2017 Trullo Restoration Workshop with Thea Alvin
You're invited to the 2017 Trullo Restoration Workshop in Ceglie Messapica, Puglia, Italy!  Our workshop project will be to restore a trullo roof under the guidance and instruction of USA- based stone mason and sculptor Thea Alvin and local master trullo builder Mario Santoro. In addition to the workshop project we will explore the area through a series of excursions observing and discussing how stone has been used over the centuries to create human habitation.
While we highly encourage participating in the full workshop we understand that this option is not available to everyone.  View the work day/excursion calendar in the Welcome Packet above. There are three options:
Full Workshop Option:  2450€, 28 May – 11 June, 2017 / 13 days, 14 nights / 9 work days, 3 excursion days, 1 day off
Week 1 Option:  1225€, 28 May – 4 June, 2017/ 6 days, 7 nights / 4 work days, 2 excursion days
Week 2 Option:  1575€, 2-11 June, 2017 / 8 days, 9 nights / 5 work days, 3 excursion days
Workshop fee includes instruction, dorm-style lodging at Casa Cilona, three delicious meals a day, and excursions. An excursion to the UNESCO city of Matera in the neighboring province of Basilicata will be October 1st, therefore available to all participants. Accommodation is at Casa Cilona, a countryside bed and breakfast of stone buildings and trulli, nestled among centuries-old olive trees and just a short walk to the project site. 
Our workshop project and experience will be very similar to the 2015 Trullo Restoration Workshop. View photos from our 2014 Workshop too!
Email Amanda Roelle at amanda@archistrati.com with any questions or to secure your place. The workshop is limited to 8 students. Deposit of 500€ due by March 15, 2017.